Amar Seva Sangam is very pleased to announce that our two nominations for the Zero Project 2023 have been selected for the shortlist of innovative solutions. Our practices for civil society were chosen based on the 3 key selection criteria for evaluating nominations include innovation, impact for creating measurable success in enabling Independent Living for persons with disabilities, and scalability.
We proudly display the Zero Project Shortlist badge, certifying our achievement of reaching the Shortlist stage in the 2023 Zero Project Call for Nominations.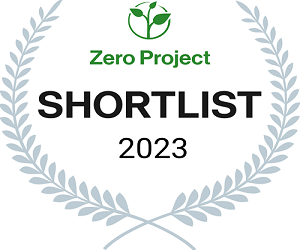 Our two shortlisted innovative practices include:
Amar Seva Sangam's "Inclusive Valley" in rural South India represents a haven for persons with disabilities for continuing education and vocational skills leading to independent livelihood, while serving as an inclusion model for the surrounding communities and society.


The Enabling Inclusion® Program's Pediatric Assistive Technology Access program is designed to support AT access and service provision for children with disabilities living in rural areas of India to maximise their functional independence, participation, access and inclusion in school and community.
The Zero Project's mission is working for a world with zero barrier; it is committed to supporting the implementation of the United Nations Convention on the Rights of Persons with Disabilities (CRPD) around the world. As such, this year's Zero Project Call for Nominations sought to identify innovation solutions in the field of Independent Living & Political Participation, and ICT. The nomination process spanned from May to early July 2022 and sought to identify innovative solutions from civil society, the public sector, the business sector, and the interdisciplinary ICT sector.  Overall, the Zero Project had received 319 nominations from 78 countries, centred around this year's theme of Independent Living & Political Participation, and ICT.  A total of 156 Innovative Solutions from 63 countries on six continents made it to the coveted Shortlist this year!
The global nominations are marked by quality and cover a wide variety of topics such as Supported Living, Self-Employment /Micro Finance or Early Childhood Intervention; those focusing on ICT had a focus on Community and Knowledge Platforms, Assistive Technology, and Translation/Conversation Tools. The international peer-review process of thoroughly screening, shortlisting, voting, and finally selecting the Awardees of the Zero Project has begun and will continue until September 2022. Civil society, public sector, business sector and ICT-based solutions #ZeroCall23 nominations were received as follows: – 190 nominations from civil society; – 23 nominations from the public sector; – 27 nominations from the business sector, and – 79 ICT-related innovations (across all sectors).
Starting from August 12, 2022, the Zero Project Network and ecosystem will be given the opportunity to engage with and vote on the Shortlist of Innovative Solutions. The Shortlist also represents an international pool of innovations from which ten extraordinary solutions will be curated and invited to join the Zero Project Impact Transfer – a global program to support the internationalisation of innovative disability solutions for a barrier-free world.
The Zero Project Team will announce the Awardees in September 2022. The overall aim is to select 75 Innovative Solutions, to be published in the 2023 Zero Project Report on Independent Living & Political Participation, and ICT. These Innovative Solutions will be awarded at the annual 2023 Zero Project Conference ­– #ZeroCon23- at the United Nations Office in Vienna (Austria) from February 22-24, 2023.  As nominees, we are pleased to have received an exclusive invitation to attend the annual Zero Project Conference 2023.
Find the full list of shortlisted nominations here:
https://zeroproject.org/news/article/meet-your-zerocall23-shortlist