The Enabling Inclusion (EI) App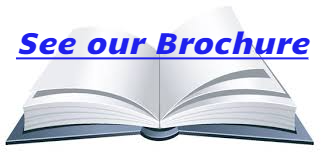 Designed for use in an Early Intervention / Child Rehabilitation program.
Used by Community workers, Rehab Specialist and Program Management
For Organizations

Real-time monitoring of all workers with GPS technology and scheduling features proven to improve program attendance rate by 50%
Monitoring of all workers activities, outputs and each child and families outcomes
Efficient deployment of workers allows NGOs to improve their impact by 4 times
Dashboard gives birds-eye view of program
Reporting features allow for complete data analysis
Allow for production of reports of each child for donors
Allows you to capture and highlight your program outputs and outcomes to your Board and funders



For Rehab Workers

Validated assessments and evaluations allow for tracking of child outcomes and helps with intervention planning
Validated protocols provide evidence based therapy plans for each child using easy to understand drop down menu options
Connects community workers to the expertise of rehab specialists
Use of the app has proven to improve worker satisfaction



For Families

Family-centered goal setting tools in the app allows parents to set their priorities
Use of app has proven to reduce caregiver strain and increase their empowerment
Allows caregivers to learn the therapeutic interventions so that they can integrate therapy into child daily life
Improves peer group connection



For children with disabilities

Individualized therapy plans based on child's needs
Covers all developmental domains
Covers children and youth from 0 – 24.
Improves their development in all domains
Improves their school enrolment and integration
Allows them to reach their true potential to enable inclusion



For the community

Awareness program feature of the app and model proven to improve communities knowledge, attitudes and decrease disability stigma
Promotes integration of children with disabilities in society.
Design

App was designed with the input of global leading experts in early intervention, child rehab and technology including MIT, Harvard Centre on the Developing Child, University of Toronto, McGill University, CanChild, Umeed, NIPEMD and many others
Significant research and effort went into developing the App (with >$500,000 invested in development alone)



Use

8 years of proven track record with use by multiple organizations (NGOs and Govt) in India
Positive feedback from organizations using app regarding its functionality, performance and flexibility
Cost-effective
Customizable to your organization's service delivery model and requirements
Can be used with any service delivery model (home-based, centre-based, mobile clinics, etc.)
Easily scalable



Support

Technology and rehab help desk to support your organization – 24 hours, 7 days
Training and hand-holding support by Amar Seva will ensure effective deployment of the app and program
Continuous improvements and innovations leading to value for money.
Automatic upgrades at no extra cost when new versions are rolled out.
Dedicated to continuously improve the app through partners feedback



Technical Features

GDPR compliance for data protection, security and privacy
Web platform and Mobile App platform – Off-line options – can sync when online
Android system
English (simple language and easy to use for lay workers with basic English language skills)
Soon to be launched in other languages (Hindi, Tamil, Telugu)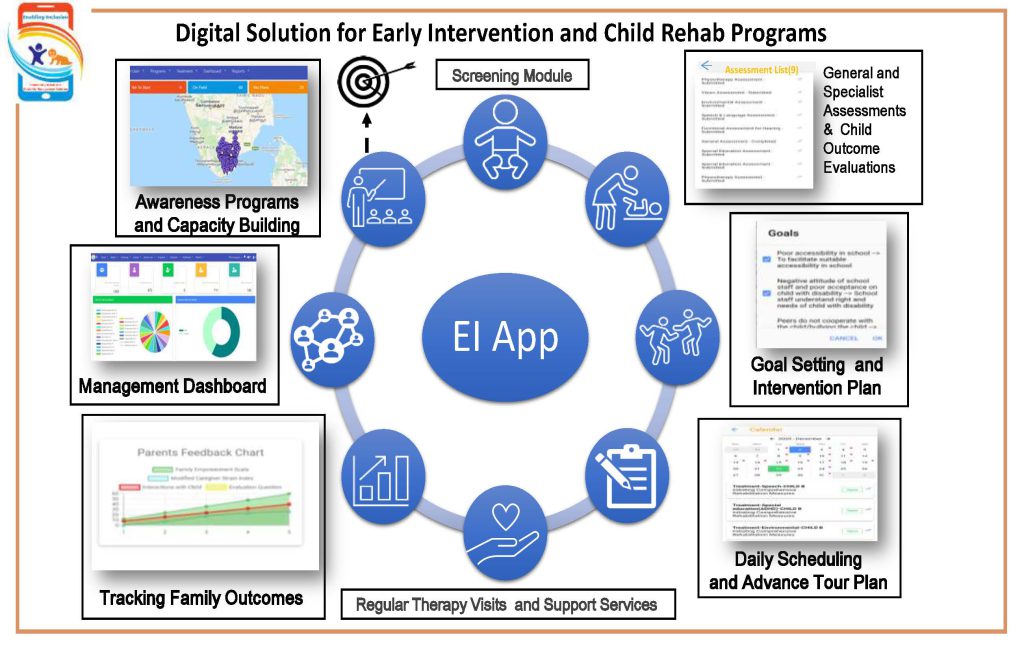 Multilingual.
Parent login and use of EI app.