The Enabling Inclusion (EI) App*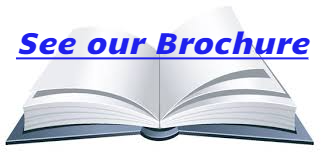 Designed for use in an Early Intervention / Child Rehabilitation program.
Individualized Case Management.
Covers all developmental domains, up till age 18.
Aims to maximize each child's potential for functional independence, participation and inclusion in community / school.
Can be used in Community Based Rehab, Centre Based Programs, Mobile Clinic or any rehab set-up.
Can be fitted into use by your team of community and rehab workers and rehab specialists and your program model.
Family Centered approach to care and services.
Focused on Parent Empowerment.
Integrating EI therapy into child's daily life and living environment.
Scheduling, Planning and Execution.
Individualized Goal Setting and Intervention planning.
Monitoring & Evaluation and Reporting.
Tele-rehab potential.
*A detailed 1-hour video demo of our app can be shared with your organization after signing a non-disclosure agreement.
Why This App?
Named one of the 30 best digital innovations in the social sector in the world for the year 2020.
Proven track record of EI model and app.
6 years of experience with 4 major upgrades.
Adopted by UNICEF and Tamil Nadu state government for a major scale up.
Helps improve child development in all domains.
Facilitates child enrolment in school and integration in society.
Reduces family's stress / strain, empowers parents, improves parent-child interaction.
Cost-effective.
Easily scalable and can be replicated to any context.
> $400,000 USD invested into the EI app.
Continuous improvements and innovations leading to value for money.
Automatic upgrades at no extra cost when new versions are rolled out.
Input of leading global experts in technology, early intervention and child rehabilitation

For a full description of our methodology and outcomes – please click on the links for our publications:

1. Rapid-cycle evaluation in an early intervention program for children in South India: optimizing service providers' quality of work-life, family program engagement and school enrollment. Frontiers in Public Health.  (Nov 2020)

2. Impact of a family-centred early intervention programme in South India on caregivers of children with developmental delays. Disability and Rehabilitation. (Oct 2020)

 
EI App Modules
(1) Advance Tour Plan (ATP), Activities and Calendar Module
Built in scheduling for service providers and calendar views
GPS – Check in and Check Out function: Monitors travel and time spent providing therapy for all service providers.
(2) Screening Module
(3) Service User and Assessment Module
General assessment follows the WHO's

International Classification of Disability and Function

model covering body structure and function, activity, participation, environmental factors and personal factors.
Environmental Assessment records home and school environment, facilitators and barriers
Specialist assessments with drop down menu choices.
Includes physiotherapy, special education, speech, functional vision & hearing assessments.
Tracking of child access and participation including school enrolment, government benefits, adaptive and assistive devices and need for medical and surgical consultation.
(4) Child and Family Evaluation/Feedback Modules
Validated family centered tool that identifies family priorities and goals for treatment using the

COPM (Canadian Occupational Performance Measure).
Standardized Development and Caregiver Tools include:

GMFM

(Gross Motor Function Measure) which measures gross motor function for children with primary motor impairments.

WEE-FIM

(Pediatric Functional Independence Measure) which measures self-care, mobility and cognition for all children.

FACP

(Functional Assessment Checklist for Programming) which measures personal, social, academic, occupational and recreational domains of development for children with intellectual impairments.

Com-DEALL

(Communication Developmental Checklist) to measure receptive and expressive communication in children with language, speech or communication impairment.
CI (Caregiver Child Interaction) which measures interaction between caregivers and their children with delayed development.

MCSI

(Modified Caregiver Strain Index) which measures strain / stress in caregivers of children with delayed development.

FES

(Family Empowerment Scale) which measures empowerment in caregivers of children with delayed development.
(5) Treatment / Intervention Module
Drop down menu for child impairments, goal setting and specified interventions chosen that are in simple language and easy to follow.
(6) Management Dashboard, Reporting and Master Data Module
Gives management a birds eye and in-depth overview of outputs, outcomes.

Real time monitoring.

Easy report creation of various queries in excel format.

Close monitoring at macro (program) and micro (individual child or service provider).

Data generated allows for robust monitoring and evaluation and research program.
(7) Training / Awareness Programs Module
Training for Child development / ICDS workers, Health Workers, teachers, parent groups.

Awareness programs for community, women and student groups.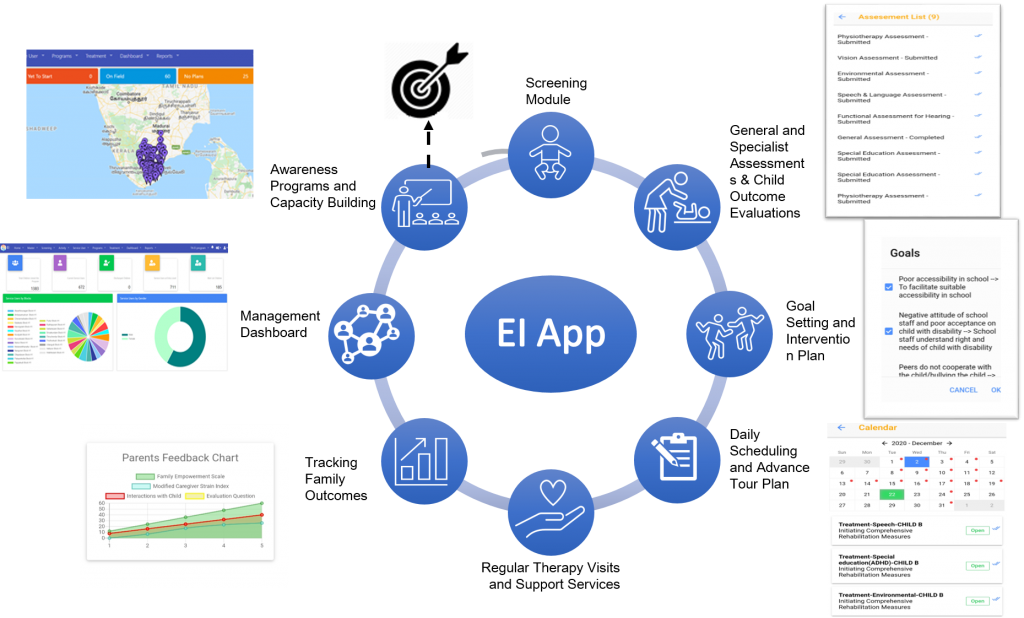 EI App Details
Web platform – Online version
Mobile App platform – Off-line options – can sync when online
Android system
English (simple language)
Many Drop down options
Easy to use for lay workers with basic English language skills
Compliance with GDPR Data Security and Protection Standards
Who Can Use the EI App in Your Organization?
Community Based Rehab Workers
Rehab Specialists
Program Management
Who will Benefit?
Children with developmental disabilities (birth to 18 years)
Parents, Caregivers, Families
Community members (awareness programs)
Teachers / Child development /  ICDS workers, Health Workers (Training Programs)
Your service providers
Your organization
The Future
Content (audio, video, text, picture) linkages for community workers and parents to assist them with therapeutic activities.
Parent login and use of EI app.