Amar Seva's Centre of Excellence (CoE) for Rehabilitation and Development for Children with Disabilities has been established to scale the impact of Amar Seva's innovations through partnerships  to provide and support child development and rehab solutions to thousands of children, families and communities globally.  The main divisions of the CoE are technology, capacity building, research, partnership development and support services.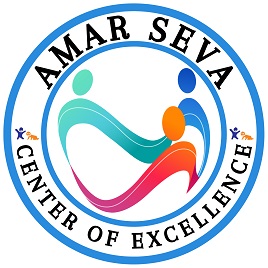 Enabling Inclusion® app development, deployment to new partners, maintenance, upgrades and customization
Technology knowledge partnership and consultation
Co-creation of new tech based solutions for early intervention and child rehab
Training and Capacity Building
NGOs, governments, rehab service providers and parents
Training in Enabling Inclusion® model and app
General capacity building of organizations and service providers globally 
Technology Support
Rehab Support
Monitoring, Evaluation & Learning and Research support
Awareness building, promotion, marketing, govt lobbying
New innovations including  assistive technology provision, awareness programs, parent empowerment groups, parent whats app groups, etc.
Collaborative research, studying innovative approaches
Knowledge dissemination through publications, presentations and stakeholder debriefing