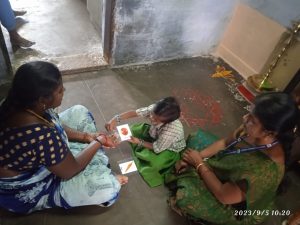 OP No: A8620211022130437
Block: Kadayanallur Block
Name of the Child: Sai Sri
Gender: Female
Date of Birth: 14/03/2017
Family & Social History:
Saisri was born on 14th march 2017 at kadayanallur in Tenkasi district. Saisri was diagnosed with the condition called Down syndrome while born. All her developmental milestones were delayed. Although physicians informed her parents about the condition, her parents did not accept the child's condition and did not give any intervention. During a screening camp at her locality, an ICDS staff was referred her to Enabling Inclusion program supported by the EI app.
Initial Assessment:
Our staff met her parents, explained the child's condition and the need for early intervention. After a few visits, the family accepted the early intervention services. She joined in Tenkasi District Home Based Early Intervention Program on 22/10/2021. When she joined in the program, she had delayed speech and did not have any self-care and adaptive skills expected at her age. Initial assessments and evaluations were done using the standardized tools in the EI app by our speech trainer, special educator and community rehab worker (CRW).
Therapy:
Special educator and speech trainer created an individualized therapy plan using the drop down options in the EI app. A therapy schedule  was created using the scheduling feature of the app for the special educator, speech trainer and the CRW. They each did regularly visits to her house and trained her mother in performing speech and communication training and teaching self-care skills like eating, dressing and other pre-literacy skills.
Outcome:
Now Saisri speaks simple sentence in words and able to express her needs and choices. She is also able to eat and wear her dress by herself. She is able to play with her peers cooperatively. From June, 2023 onwards she is going to school and special education support is given for her academic learning.
RL – Receptive Language; EL- Expressive Language