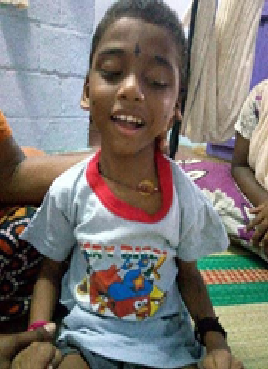 OP No: OP-223
Block: Tenkasi Block
Name of the Child: Mathish
Gender: Male
Date of Birth: 09/08/2014
Father's Name: Mr.Karuppasamy
Mother's Name: Mrs.Lakshmi
Family & Social History:
The parents of Mathish are Mr. Karuppasamy and Mrs. Lakshmi from Tenkasi. They are economically very poor and fall below poverty line. He was seen at one our screening camps when he was 2 years old and at that time, he was completely depended on others for all his needs.
Initial Assessment:
The rehab specialist of Tenkasi block team did the initial assessment. They have identified that Mathish has Cerebral palsy with intellectual impairment and profound disabilities. They identified problem in body movement, neck control, hearing sounds and in self-care activities. His mother had a history of Malnutrition during pregnancy and there was prematurity and low birth weight.
Treatment:
CRWs in our program have been giving regular Early Intervention therapy in his own home over the last 3 years. The CRWs have provided training to his parents under the supervision of Physiotherapist, Special Educator, Speech trainer. His mother is very proactive and gives therapies regularly to the child. His parents have found the guidance of the CRW and rehab specialists very helpful in how to care for their child.
Outcome:
We found many positive changes in the functional development and communication development of the Mathish. He indicates his need with gestures, tries to sit with support tries and produce simple sounds to communicate with others. His parents have learned to use cushions to support him while sitting so that he can interact more with others. His parents have learned how to feed him while supported upright to prevent food aspiration.