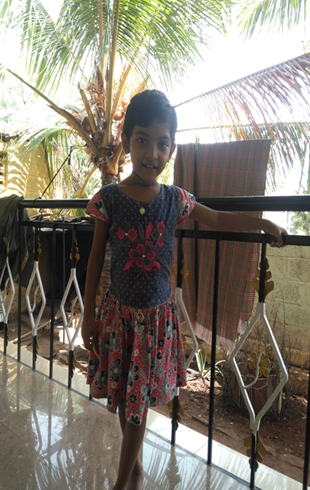 Yuktha was born in a village called Ananthapuram in Tamil Nadu.  Her mother had a prolonged labour and Yuktha didn't have a birth cry and was underweight.  However, she was discharged from hospital without any developmental follow-up. 
At the age of 2, Yuktha was unable to stand unsupported, her legs appeared stiff and she didn't speak. Her mother was concerned about her child's development, but was afraid of talking to others because of stigma associated with having a disabled child. She was afraid she would be blamed if  her child  was diagnosed with a disability and didn't know who to turn to.  
During one of  Amar Seva Sangam's (ASSA) Awareness programs, Yuktha's mother saw a presentation about child disability, early intervention therapy and about how to reduce stigma associated with child disability. She approached the ASSA Team and  spoke about her concerns with Yuktha. The team booked Yuktha in for a screening visit at the local Primary Health Centre. 
Yuktha was screened by one of ASSA's Community Rehabilitation Workers and was found positive for potential delayed development using the screening tool on the Enabling Inclusion (EI) app. Yuktha's details were entered into the app and that triggered home visits by ASSA's multidisciplinary team of rehabilitation workers who worked in her area (CRW, physiotherapist, speech trainer and special educator). 
She was diagnosed with Cerebral Palsy and recommended to enroll into ASSA's home based early intervention (EI) program.  Her mother was worried about her families future and felt like a failure as a parent. Her husband and other family members refused to believe that there were any issues with Yuktha's development and did not enrol her into the EI program initially.   
The CRW did a few more home visits to counsel the family members and understand their needs and concerns. After 3 months, Yuktha's parents enrolled her into the home based early intervention program. Using the Canadian Occupational Performance Measure, Yuktha's mother and father listed their goals and priorities for her development and based on this, the rehab specialists set out treatment goals and plans. This was followed through by the CRW on weekly visits to the child's home. In addition, parents were counselled on how to integrate early intervention therapy into the daily life of Yuktha and the other family members. 
After 2 years in the program, Yuktha's development improved significantly. She was able to walk with a walker for short distances and she was able to speak. Her parents wanted to enrol her in kindergarten, but the headmaster of the local school was discouraging, saying there were no ramps at the school and that the teachers were too overwhelmed with work to assist Yuktha.  
Yuktha's parents informed the ASSA team members and spoke to their local ASSA Early Intervention Parent Participation group. The parent leaders from this group and Yuktha's physiotherapist, speech trainer, special educator and CRW visited the school and spoke to the school administrators. The school agreed to build ramps and hand rails to help support Yuktha and have ASSA's CRWs and rehab specialists come to school to give therapy and advice the teachers on how to integrate Yuktha into the classroom. They also hosted a School Awareness Program, where the teachers and students at the school learned about how to integrate children with disabilities like Yuktha into the classroom and into peer groups. 
After 3 years in the program, Yuktha's parents still feel stress, but their sense of strain and burden are significantly reduced and they feel more empowered. Yuktha's mother became the leader of the local Early Intervention Parent Participation Group and helps advocate for other children and their families. Yuktha is attending school, doing great academically and has made a number of good friends. Her favorite activities include playing catch, reading books and chatting with teachers and friends. The ASSA team continues to visit her at home and at school to continue to support her developmental needs.