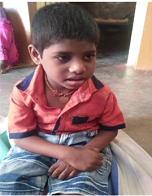 At Age 4, Siva Ram screened positive for delayed development at an Anganwadi centre (pre-school) by one of ASSA's Community Rehabilitation Workers during a screening camp. ASSA's specialist team did an initial assessment in his home and they identified him as having an Intellectual and Speech Impairment and recommended that his parents enroll him into ASSA's home based early intervention program.
Baseline FACP, WEE-FIM and Com-DEALL were performed and entered into the mVBR-EI app. The specialists identified difficulties in Activities of Daily Living (ADL), academic performance & speech.
Parents identified the following as their goals through COPM:
Eating independently 
Playing with others
Bathing
Dressing
CRW instituted the treatment plan including providing play therapy, using ring stand, using positive reinforcement in appropriate situation, encouraging play and interaction with other children and family members in home, using modelling for ADLs (i.e., eating, dressing, bathing etc.), teaching gestures or sound to communicate, mouth exercise and getting the child to imitate sounds. Parents were also trained in promoting these activities on a regular basis. However, after 6 months, receptive and expressive speech score and the social domain and ADLs in FACP were worsening.
This child was flagged on the mVBR-EI dashboard and the Special Educator, Speech Trainer and CRW presented for case discussion during monthly rounds.
They identified that Siva Ram had sensory processing difficulties and based on group discussion, the following plan was instituted:
Our specialist team gave training to the CRW and special educator on sensory integration therapy.
Psychologist did consultation.
Counseling given to the parent regarding child interaction.
Increased focus on ADL training and socialization for treatment plan.
Speech therapist did consultation.
New treatment plan created by speech therapist and training provided to speech trainer and CRW.
After the new treatment plan, which focused on self-care, speech and his daily activities, there was significant improvement in functional development, ADLs and speech (see graphs below).