On the International Day of Persons with Disabilities 2022, we are delighted to announce that we are a Zero Project 2023 award winner for our Pediatric Assistive Technology (AT) Provision Program in rural South India.
Amar Seva Sangam is proud to support AT access and service provision for children with disabilities living in rural areas of India to maximise their development, functional independence, participation, and inclusion in school and community. Our impactful program ensures that children have access to needed assistive products such as walking devices, wheelchairs, orthotics, standing and sitting postural supports, specialized cushions, hearing aids, and communication devices.
As a Zero Project 2023 awardee, we are actively supporting the mission and vision of the UN CRPD for a world with zero barriers. We are proud to be part of the Zero Project family and we will be presenting and promoting our impactful, innovative, and scalable solution at the invitation-only Zero Project Conference 2023, to be held on Feb 22-24, 2023 at the United Nations Office in Vienna, Austria.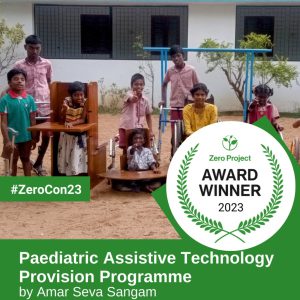 We are honoured for the recognition of our Enabling Inclusion®  Program & of our partner Handi-Care Intl. (Toronto, Canada).
Gio and Jeff Boniface (Vancouver, Canada) initiated an AT program for adults with spinal cord injuries at ASSA in 2019 and Sulo Krishnamurthy, founder and President of Handi-Care Intl., developed it further to expand the program to the children in 2020.  The Program is mainly funded by Handi-Care Intl., Toronto, Canada (70%), Azim Premji Foundation (15%), and parents' copayments (5 – 10%).  For further details, visit: www.handicareintl.org/AT
The Pediatric AT Provision Program was developed based on AT research and best practices by Marie Brien (Associate Director of Research and Capacity Building), Navamani Venkatachalapathy (Training Lead, Implementation and Innovation Lead), Ramasubramanian Ponnusamy (Rehabilitation Director). ASSA implemented the Program in October 2020 following a research study conducted to identify AT needs, barriers and facilitators in rural South India based on the WHO's principles of AT access ('acceptability', 'affordability', 'accessibility', 'availability', 'adaptability').
The study: "Enabling local provision of assistive technology in rural South India: A survey of needs, barriers, and facilitators"
 Free paper presented at the AusCPDM/IAACD 2022 Conference, March 3, 2022  
At the core of the Pediatric AT Provision Program is the team of Enabling Inclusion® Program rehabilitation specialists (physiotherapists, occupational therapists, speech and language pathologists, speech trainers, special educators) who conduct assessment of needs, prescribe, order, distribute, fit and adapt, train children and parents, and ensure maintenance of those assistive products. The program is efficiently led by Ramasubramanian and Navamani.
A comprehensive action plan has been essential to the success of ASSA's Pediatric AT Provision Program and addressed the following AT study recommendations:
Capacity-building of rehabilitation staff on all aspects of AT provision
AT Assistive Devices Guidebook written- manual for service providers on providing all aspects of AT services.
AT assessment camps implementation in various hubs in rural districts .
AT Provision Module development- A step-by-step pathway to AT access completed & followed for each child in the Enabling Inclusion® Program.
Identification and training of local suppliers of assistive products (AP), including woodworkers and carpenters.
Disability awareness programs (in communities and schools) strengthened to address AT-related stigma and promote AT acceptance.
Educational programs for service-users and families empowerment addressing benefits of AP on child development, participation, and inclusion.
Educational handouts to family members receiving pediatric AT to understand use and maintenance of AP.
Upgrading the Enabling Inclusion® app to document all the steps in provision of AT including: Prescription, Funding, Ordering and Provision, Training, Use, Fit, Maintenance and Repair .
Creating a socio-economic assessment form that is within the EI® app to assess a family's ability to co-pay for the prescribed Assistive Products.
Assisting families to apply for available government funding for pediatric AT.
Launch of AT provision fundraising campaign with national and international funders, sponsors & donors to cover the gap in pediatric AT funding for families.
Zero Project 2023 awardees are a global representation from all sectors of society. The 71 Awardees come from 38 different countries and from all six continents, with Europe (23 Awardees), followed by Asia & Pacific (19), North America (14), Africa (8), Latin America & Caribbean (6), and Australia & Oceania (1). Among these Innovative Solutions, 45 Awardees come from civil society, 1 from the business sector, 6 from the public sector, and 19 are mainly ICT-based approaches.
Read more here: https://zeroproject.org/…/announcing-the-zero-project…
#IDPD2022 #EnablingInclusion #ATChangesLives #AssistiveTechnology #ZeroCon23 #ZeroBarriers #AmarSevaSangam #LivetoServe #YouCanMakeADifference #AnInclusiveWorld #Disability #pwd #disabilityrights #DifferentlyAbled #inclusion #specialneeds #accessibility #AmarSevaGlobalAssociation #ASSA