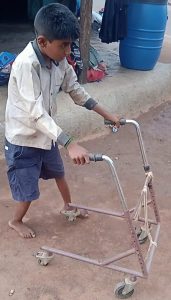 Child Development and Inclusion
Abu Bhakkar Siddiq is a 10-year-old boy, born as 6th child for the parent in a slum in the Tenkasi district of Tamil Nadu, India. He has developmental delay and is followed through home-based therapy services from Amar Seva Sangam's (ASSA) Enabling Inclusion® Program. At 8 years of age, his highest level of function was his ability to sit independently. Through the Pediatric Assistive Technology (AT) Provision Program, a postural device – a standing frame – was provided to him with funding support from Handi-Care Intl. Abu Bhakkar's trunk stability and ability to bear weight through his legs gradually improved, and he was able to pull to stand with support.
Once he became able to stand with support, an anterior rollator was prescribed, funded, ordered, and obtained for him through ASSA's AT program and documented in the Enabling Inclusion app's AT module. With training and guidance provided to Abu Bhakkar and family, he rapidly learnt to walk with the use of rollator, initially within his home and nearby surroundings. He now proudly walks to all places with the use of his rollator, goes independently to school, plays with his peers, and explore all the fun that his peers enjoy in that community. Community and school awareness programs provided by ASSA have contributed to dispel stigma related to disability and use of AT.
"I am able to go playground and play with my friends with my 'nadai vandi' (rollator walker) – Abubhakkar Siddiq.
The progress made by Abu Bhakkar Siddiq is documented in the evaluations conducted in the EI application in the Function Independence Measure. In addition, his family have become more empowered. Initially, family empowerment had a downward trend, but after providing the assistive technology and parent education, it has gone up significantly. This is shown in the Family Empowerment Scale below.
Function Independence Measure (as measured by weeFIM) – mobility, self-care and cognition.